Happy Summer Everyone!
I know it isn't officially summer till June 21, but I always feel like it is summer as soon as all the kids are out of school. My neighborhood is alive with the happy yelps of kids running through sprinklers and the shouts of joy as kids ride through the streets in their little 8 year old gangs. We have been outside nonstop and enjoying life.
Can you see the dirt on him? The hallmark of a fun camping trip...getting super dirty!
One great way to start the summer would be to win a  a $50 "Pamper Me" gift basket! Molly Maid is sending one to a lucky Too Much Time On My Hands reader! Hop over here, there are 5 ways to enter!
Now on to the major eye candy and my "Hit List."Here are some of my favorite link ups from last week. If you were featured, grab a button!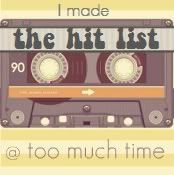 WHY, why, why did I sell both of my cribs on craigslist? Creatively Living Outside the Box created a super cute and functional message center from her crib!
"No sew" are possibly my 2 favorite words in the English language! Scattered Thoughts of a Crafty Mom is teaching us how to make a no sew pillowcase dress-YAY!
I'm making this! LOVE LOVE LOVE. A Little Something in the Meantime made this super fabulous mason jar planter box. Did I mention that I love it!
Anyone for some free printables? ME ME ME! Here are 5o free summer printables from Craftionary...enjoy!
I have a great upcycle brought to you from Folk Haven. Create a rocker/bridge/stool/tunnel out of discarded cardboard boxes!My son has some sensory issues and rocking is part of his therapy. Buying a brand new (and sturdy) rocking toy is expensive, but this I can definitely do!
Are we all as obsessed with burlap and feed sacks as I am? NO?! Well, here you go anyway! Twigg Studios created a faux feedsack storage box that rocks!
My favorite part of summer is when  I get to sit on my front porch or in the backyard painting, gardening, or planning projects while I keep an eye on the kids and dodge the bubbles and water guns! I have so much to share over the next few weeks, but for now it's your turn to share all the lovely things you've created, cooked, built, and made. Here is a button that you can share if you'd like!