I am so glad the weekend is here. This was the first week of my husbands new business. I have been his web designer, IT girl (even though I am clueless), health insurance researcher, laptop purchaser, printer installer, mail carrier, and general office manager. So I haven't posted much and am chomping at the bit to get out in my garage and get creative. Things are finally settling down around here now that he is rolling and I am hoping to get a bit of my regular life back too!
So, please forgive me that I haven't made a "hit list" this week. We are packing up for a camping trip and I ran out of time. But I did try to visit all of the link ups and had time to comment on many of the awesome inspirations you all shared.
Please keep linking up and I promise I will get back to normal one of these days!
No rules-link up whatever you want to share! If you would like a button here ya go-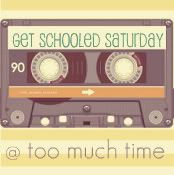 I actually get very excited when people share my button on their blog-since I don't MAKE you do it, I feel really honored when people actually share it-so thanks:)