So happy to have you here to party with us this weekend!
First order of business is to announce the winner of the Burlap Fabric.com giveaway.
Congratulations commenter number 9,
Lynaeve who said,
"I would probably go with whatever's most economical to make the most out of it. Looks like the coffee bags."
I guess you are going to be stocking up on recycled coffee sacks, girl! Send me your contact info and I will forward it on to Burlap Fabric.com for you!
Here are my favorite link ups from last week! Grab a button if you were featured.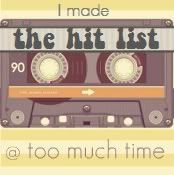 Let's start off with this fabulous Fishing Lure Art from Josie Jones & Co. So rustic, so simple, so original, and sooooo lovely!
I think this is a no brainer! Do you save old jars? Spruce them up with ribbon and chalkboard paint like My Handcrafted Home did, to make sweet gifts for love ones!
How about some free vintage label printables? Thanks to Angela at Knick of Time!
Next up is the lovely Nay from Sweet Lemonade. She is a witty, creative, and energetic EIGHTH GRADER! She has a fab tutorial on making your own envelopes from brown paper bags.
The Blissful Bee has blown me away with her DIY Industrial Cart Coffee Table!
Who is ready to link up some goodness and share your creativity?
No rules for this here party, but if you feel like following or displaying a button I ain't gonna stop ya!