This post brought to you by World Market. All opinions are 100% mine.
My husband is so freking amazing!
He works his but off to to provide for us, while always carving out lots of time to spend together as a family. I really wanted to do something nice for him for Father's Day and I decided to start with a trip to World Market for some Father's Day Gifts.
World market is celebrating Dad's this year with an amazing Dad's Day sweepstakes! Each week for 4 weeks they are giving away a $1,000 World Market gift card for you and one for your dad too!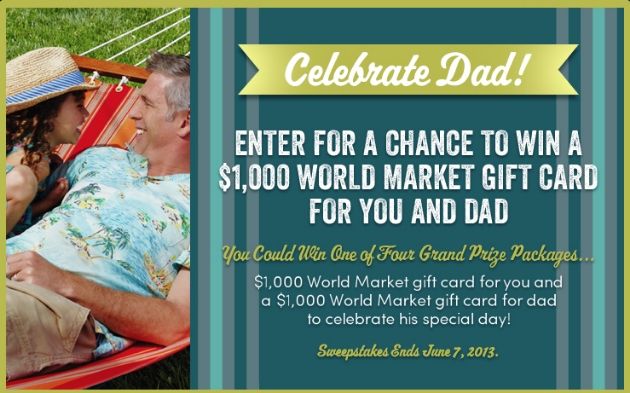 Now, I am a World Market junkie, but truthfully, I am usually there shopping for myself or for gifts for girl friends. It was a fun change to be there with my husband in mind. I found so many fun things, that I ended up in there for 1 1/2 hours just trying to decide what would be the best way to show this amazing father how much we love him!
I ended up spending a lot of time in the BBQ & Grilling section and decided on getting some suipplies to create a great dinner for the entire family.
One of our fave summer dinners is grilled homemade pizza using fresh veggies and herbs from our garden. So a proper grilling pizza pan was in order and of course we love to grill some of those veggies as well and this fabulous grill pan will keep all of those little guys from falling through the grates.We are short on light out in our yard, so I had to pick up the sweet patio string lights as well!
I also found some fun gourmet food items at World Market, well I always do. They have such a large and fun food section and I can always find something unique and delicious to make a meal extra special!
I think my husband was really touched that we went to the trouble to create a personalized and fun dinner for him and we can keep on using these awesome supplies all summer!
We were super happy to continue the relaxing celebration after the kids went to bed and the sun went down! Those lights set a great atmosphere and it was wonderful to just enjoy the warm weather and chat away the evening.
Now, I know you want to enter this amazing sweepstakes and you can Nominate your Dad here!
You can also earn extra entries by checking out World Markey on Twitter, Facebook, Pinterest, Instagram and Tumblr!
I would love for you to follow along! Subscribe via e-mail or rss feed in a reader. I also post on Twitter and Facebook almost every day. And did I mention my Pinterest addiction....