I grew up in Allentown, PA, just a hop, skip, and a jump from New York City. When we go back home for visits we love to head up there to soak up the food, culture, and fun NYC has to offer.
My husband, Ian, does a lot of travel for work and always uses Marriott because of the clean and modern accommodations, the helpful staff, and the fabulous rewards! I get to be the recipient of some of those rewards when we travel together for fun. NYC can get pricey, but finding a fabulous Marriott property is always a cinch.
New York City is a big place and it is hard to decide where to stay. Here is a helpful infographic to help you decide where to stay and what to do.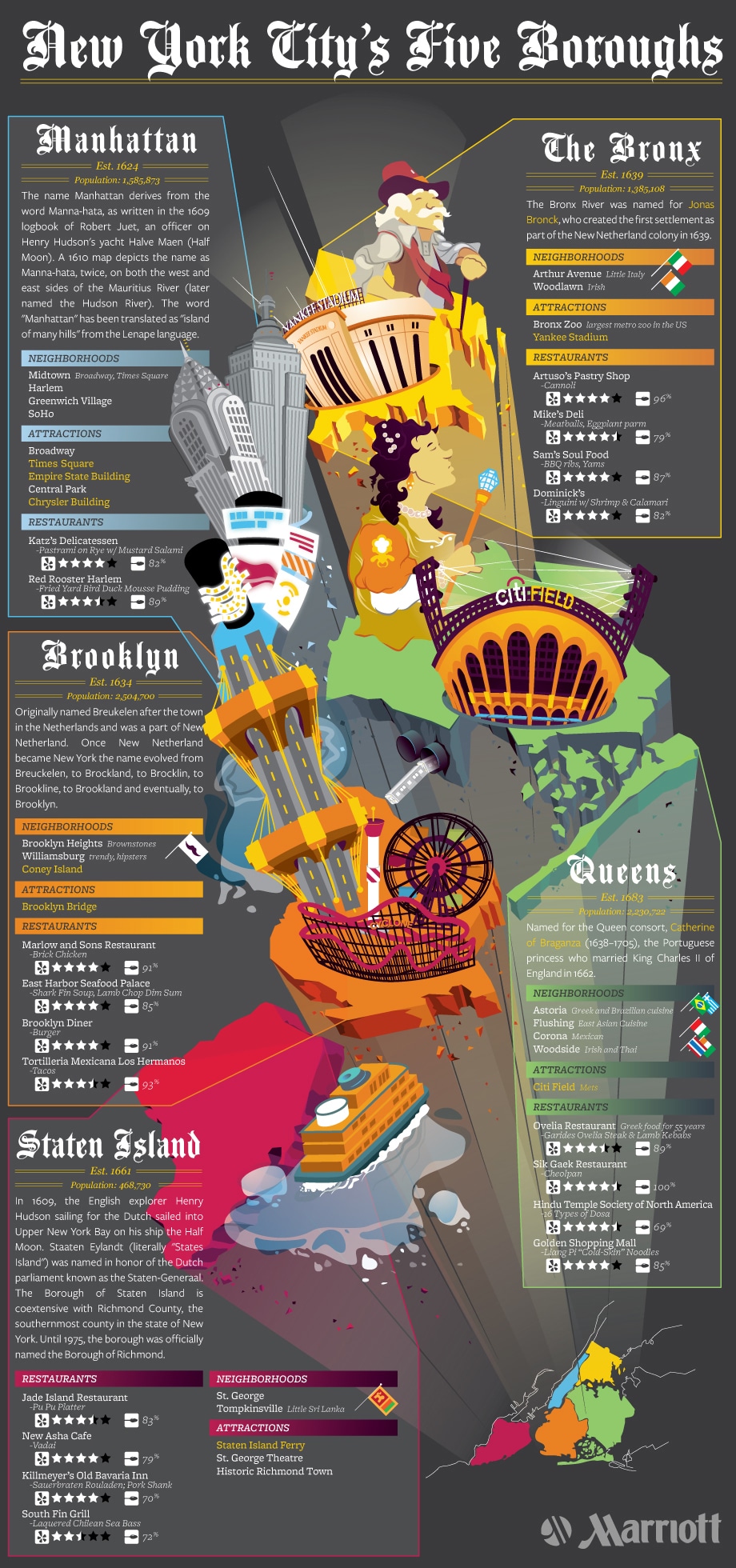 New York City's Five Boroughs - An infographic by the team at Marriott New York Hotels
Last summer we were in Chelsea for a wedding, the most fabulous wedding I have ever attended actually, and it was a great home base for exploring some amazing parts of the city. We walked to hither and yon and of course had to hit Times Square.
We spent some time investigating which Broadway shows we want to go to. We are thinking of taking our 6 year old up to NYC over the holidays and checked out this interactive timeline of Broadway shows to decide what she might like to see.
This was a fun way to look over past shows throughout history and learn about when they were running and highlights from the show.
Even if you aren't planning on heading to NYC, Marriott is everywhere, literally they have 3,800 properties in 74 countries and territories.  They are a leading  international hospitality company and I can say, we have only had fabulous experiences staying with them across the country. I highly recommend that you look into options from Marriott the next time you are planning a fun travel adventure, a family get-away, or a work trip.
I would love for you to follow along! Subscribe via

bloglovin

,

e-mail or rss feed

in a reader. I also post on

Twitter

and Facebook almost every day. And did I mention my Pinterest addiction....
I was selected for this opportunity by Clever Girls Collective, however all content and opinions expressed here are my own.