Another week and another new blog design!
Contrary to the name of this blog, I really do not have time for all this nonsense. I just get a bee in my bonnet and there is no way to stop the steamroller that overtakes my blog until I am newly satisfied.
Anyway, good morning my sunshines!
Some super cute and fun stuff going on here for you this morning.
Hope they make your Monday morning a bit more shiny:)
If I featured you grab a button-and you better move fast if you like this one because it may change again by next week!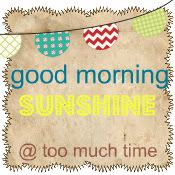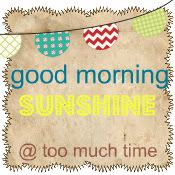 Here are some of the most amazing projects I found this week!
First off, let's just say for the record that I didn't really need another pallet inspiration. But, look what ReMade Simple 
went and did. Typography pallet signs!
Off I go to Lowes to steal more from their dumpsters:)
shared a great tute on making some sparkly and fun foil snowflakes.
The homemade tea bags from
are sweet, thoughtful, and exactly what I want...right now!
This fabulous cabinet makeover from
is just amazing- Love the boards she put on top!
OOOHHHH those casters!
has an amazing industrial table to share!
These hangers are on my list to copy this week!
used chalk paint to make the sweetest hangers ever.
I do love sunburst mirrors and this one from
is so freakin cool
Hope everyone has a great week!