I posted this idea on Facebook and got tons of responses, tips, ideas, and help from tons of my followers (thanks, gals)!
My cabinets are an oak color, the floor is oak, the paint is beige-fine but blah
And every single one of those white appliances is 12 years old and in questionable operating order. As they wear out and need to be replaced we will go with stainless steel, so my cabinet color and finish choice needs to mesh with that plan.
My biggest concern is the sheer number of cabinets and drawers I have...
43 to be exact
Ahem, that's a stinkin ton of cabinets and I am not 100% sure I have the skill level necessary to pull it off AND make it look good. What do I do if I totally screw it up...they are my cabinets in my open concept house that you can see from everywhere?
Spray or roll, remove all the doors or leave 'em on, use a cabinet painting kit, chalk paint, or cabinet paint, strip first or just sand?
S.C.A.R.Y.
Well, let me tell you, all of my Facebook friends truly have given me the courage (and their cell phone numbers for emergencies) to give it a try. I will be waiting for a long weekend when my husband takes my kids out of town though. I need complete isolation for 3 days to feel confident to do this! So, it may not happen for a while, maybe this summer, but I sure have been dreaming and pinning while looking for inspiration. Here are some of my favorite ideas!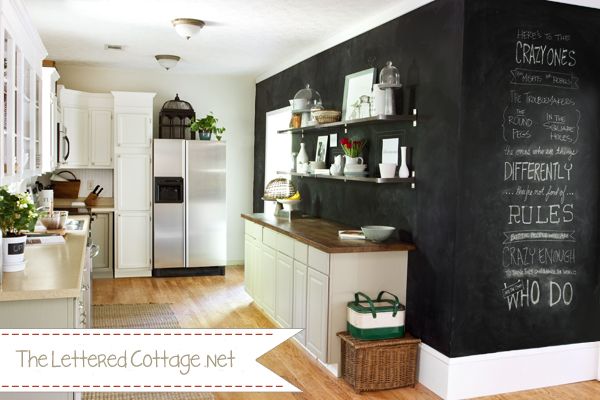 The Lettered Cottage- That chalkboard wall is amazing too! You have to see this before and after!
via Apartment Therapy- Love the 2 tone look
Lisa Dressig Design Studio-The black would look great with the oak floors and new island topper I am building!
via Crumpled Envelope- Red Red Red!
via Apartment Therapy-Hmm, those rustic open shelves are AMAZING!
Midwest Living- That huge island rocks, too
Designed To The Nines- Love the grey and the top open cabinets.
via Pink Persimmon- I like the mix of yellow, black, and natural elements
Better Homes and Gardens- The color mixed with steel industrial elements is refreshing.
Atlanta Homes Magazine- I already have 4 very similar stools I snagged from Decor Steals a couple of months ago!
via Pinterest- Old world style is so cozy
via Greige-I am loving the soft gray
via Designed to the Nines - This amazing green would totally jive with my adjoining family room rug!
Canadian House and Home- I am in Industrial Chic Love...that's a thing right? Could I paint the cabinets with a metallic silver paint?
Hands down the last one is my FAVORITE...hmmm not sure if my husband would be on board, although he is pretty easy to win over:)