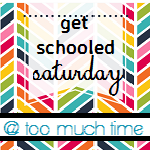 So happy you have joined us for another great weekend of creative and crafty sharing!
At Get Schooled Saturday you can link up anything fun, creative, thrifty, special, or crazy you would like.
No rules-so have fun!
_________________________________________________________________________________________________________
***I am sorry there aren't any features from last week's party. All of my Link Parties from Linky Tools are gone, I think he is having some trouble over there, we all know how technology can be!
I am however switching back to in-linkz for a couple of reasons. I have never had any technical issues with the service. And more importantly, even if my pay subscription expires, the thumbnail linkies  are still forever visible on my blog. If the Linky Tools pay subscription expires so do all of the linky parties. I also use the link up tool for my page collections of crafts, DIY, "kid stuff," etc. that are up in my menu. It takes me a lot of time to get all of the posts organized and the collections completed, so I certainly don't want them to be disappearing, as some of them have right now with the Linky Tool issue. I have also had issues for the past 3 weeks of the schedule ahead option and the party not going live when it was supposed to.
I am hoping to be back on track with the party going live every Friday at 6 pm MST from now on!
________________________________________________________________________________________________________