So glad you are here to check out all of the features from last week's linky party!
As always, I am floored by the creative brilliance, humor, and information you all share each week!
If you were featured grab a button and wear it proudly.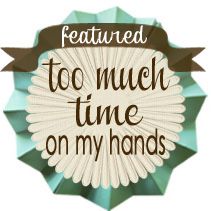 Magic City Thistle created this super cute and trendy Ampersand Art from the Dollar Store. I even bought that wood grain contact paper and it is hiding in my craft room, I may need to put it to good use today!
I just love this "It Takes a Village..."  post from One Organic Mama. It is so important to remember that being a mom is H.A.R.D. and we are all trying our best. That looks different for each of us and instead of judging those who aren't like us, lets embrace all of the ways we raise our children and nurture our families while supporting each other to create a beautiful world!
I will be making these Honey Vanilla Parfaits from Mom On Time Out for our Crazy Kid Fest Super Bowl Party!
And these will be fore the adults at the Super Bowl Fest...Flu Shots from Jacolyn Murphy. A mix of honey, lemon juice, grated ginger,honey, and vodka. Flu busting ingredients made fun!
AMEN!, Diana from Diana Rambles is on a mission to get bloggers to Turn off Captcha and I am 100% on board. She shows you how to do it in this informative post.
Could be the cutest things I have seem all year! Making Home Base shared these totally adorbs Upcycled Valentine's Day Legwarmers!
Angie from Knick of Time created this wonderful Quirky Candleholder and I want it...now!
Simple Home. Life redid this Campaign Desk and I am drooling over the industrial awesomeness.
I shared my new mantle this week, but now I have mantle lust! Craftiments created this wonderful Snow White Winter Mantle and I am now craving a snowstorm!
Being Home created this gorgeous Boy Bathroom and I may need to steal some of her ideas for my kids' bathroom!
And last but not least, Happy In Red made these amazingly colorful Vintage Inspired Pillow Cases and now, I need to learn to crochet!
Hope to see you back here bright and early tomorrow morning for This Week's Linky Party!