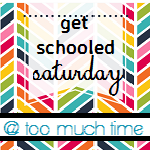 So happy you have joined us for another great weekend of creative and crafty sharing!
At Get Schooled Saturday you can link up anything fun, creative, thrifty, special, or crazy you would like.
No rules-so have fun!
_________________________________________________________________________________________________________
It's been a B-I-G week round here! My December issue of BH&G arrived in my mailbox and I can't stop looking at my lil article on the back page. I keep saying,
"Let's look at my magazine again!"
My daughter keeps saying,
"Didn't you already see it, mom?! "
HaHa, a five year old just can't understand. If you would like to check out any of the decorations that were featured, learn how to make them, or read my really really (really) long story about all of the wild shenanigans you can do it right here.
Onto some other fun stuff for you, I have a cool giveaway that every single one of you is going to want to enter!  I met this rad and super talented guy at our preschool auction last weekend.
Phil Schmidt is a master with plywood and gathered fellow artists and craftsman to share 71 ply wood projects in this fabulous book.
You can buy the book here
I won the book and a super cool personalized twinkle board at the auction and when I found out that Modern In Denver is giving away a few copies, I just had to share. There are so many cool, useful, and quirky projects for your home and your kids! Hop on over to Modern in Denver before November 22, 2012 and enter to win one of 3 copies!
Okay onto the PAR-TAY.
I decided to start featuring the all stars from the previous week in a post I will publish every Friday morning.
Here are the features from last week's party.
I can't wait to see all of the goodies everyone will be linking up tonight! Thanksgiving recipes? YUM!  Christmas crafts? YAY!