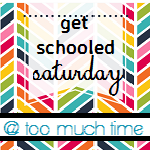 So happy you have joined us for another great weekend of creative and crafty sharing!
At Get Schooled Saturday you can link up anything fun, creative, thrifty, special, or crazy you would like.
No rules-so have fun!
_________________________________________________________________________________________________________
Vacation is over and I am back to the usual grind. Hee Hee. We had an amazing time in Iceland and I highly recommend it as a vaca spot. The locals were very friendly, offered amazingly delicious food, almost everyone spoke English, and the scenery is spectacular
.
If you are down with hiking glaciers, soaking in mineral rich hot springs while gazing out over a volcano, strolling a quaint city with lots of fun and interesting shops. and hunting for The Northern Lights, then Iceland is the place for you
Here are some of my faves from last week.
I ADORE this Deer Silhouette Art from Homey Home Design.
These Book Page and Twine Pumpkins from Holy Craft are cheap without being "cheap."
Love,Pomegranate House shared a scrumptious looking Caramel Apple Cheesecake Dip....d-r-o-o-l
The Concrete Cottage made an awesome PB knockoff  Glass Jug Lamp. The best part was she didn't even have to drill through the glass! Now, even I could do this!
Marilyn over at 4 You With Love made a bright and fun Paisley Canvas. So fun!
Can't wait to see all of your brilliance this week!