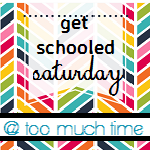 So happy you have joined us for another great weekend of creative and crafty sharing!
At Get Schooled Saturday you can link up anything fun, creative, thrifty, special, or crazy you would like.
No rules-so have fun!
__________________________________________________________________________________________________________
As you are reading this, I am sitting in Reykjavik enjoying a glass of wine in front of a fire and devouring a scrumptious classic Icelandic dinner! Beach vacas are great and all, but this is pretty stinkin amazing! Tomorrow we will return back to reality, rescue my mom from her 6 days babysitting gig, and give some big squeezes to our kids. But we get one more night of fun and one more morning to sleep in before then and we plan to enjoy every second!
Here are my fave link ups from last week's party.
I ADORE this Wicker Dresser Redo from Pressing On. The green is so cheerful:)
Such a cute Thankful Board from Cherished Bliss. It is always a good time to remember all of the blessings in our lives!
MMMMMMMM, Glued to My Crafts shared a yummy looking Banana Pumpkin Smoothie!
Crystelle Boutique created this "antique" Fresh Vegetables Sign to (hopefully) subconsciously remind everyone to eat more veggies!
I am just loving this Fall Leaf Bowl from Better Organized Living. She has a great tute for you!
Just in time! Family, Home, and Life shared her free printable Pumpkin Seed Packets. We have seeds drying on the windowsill and now we can package 'em super cute!
I can't wait to see what I have been missing this week, so link it up peeps!