T.G.I.F.
How is it a 4 day week can feel longer than a regular week? I have been so busy with back to school,
a new nephew and family visiting from all over the country,
and a BIG consignment sale I do. I am really ready to settle back into, "normal."
I have been pinning so many amazing projects from Get Schooled Saturday and now I need some time to actually DO SOME OF THEM.
Here are my faves from last week's party! If you were featured, grab a rad button!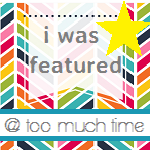 I LOOOOOVE this old door/coffee table tutorial from
The Space Between
. She makes it look so easy-now I just need an old door.
Crystelle Boutique
shared a fun grandfather clock...amazing what some mint green paint can do for an old guy!
I am digging the green paint this week.
Art is Beauty
floored me with this roadside rescue!
Now, lay your brilliance on me people! I am looking for ideas-share 'em if you got 'em. No rules for this here party!