A Big Fat and Very Hot welcome to this week's linky party - I am so glad you stopped by to join in the fun.
Look around and get inspired, laugh, commiserate, and enjoy all of the crafts, stories, mishaps, recipes, and projects everyone is sharing.
Here are the best of the best from last week's party. If you were featured grab a button!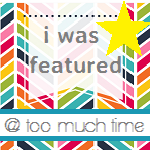 I must say, I am a bit intrigued with painted floors, but have been way too scared to tackle an ENTIRE room. Red Head Can Decorate showed us a small painted rug can have a HUGE impact.
If you saw my post on Wednesday you know I am ready for fall! Attempting Joyful Homemaking shared a scrumptious pumpkin pancake recipe that I can't wait to try.
Sew Fabulous Now is my hero because ...well...she can sew and I can't. This little shade she whipped up is just too stinkin sweet...will you come over and teach me....please?
This one totally caught my eye because I am redoing my hubs office space and I keep finding business cards all over the joint. He has like  789 and I was trying to think of something cute to do to organize them.Kaminsky's Creations made a fun and unique roladex-I am stealin this idea....shhhhh.
You all know I adore and worship every single one of you right? Mama doesn't like to play favorites-spread the love is what I say. But just this once I need to say, this was my fave fave fave link up last week. Poofy Cheeks has rocked out a super awesome craft room that has me dizzy!
Now, it's your time to shine and share anything your little heart desires. No rules, but if you'd like to follow, I sure would love it and if you want to share a button, well here ya go!