This post brought to you by Revlon. All opinions are 100% mine.
The truth is, I love make-up, but I am too timid to ever make any bold choices, and too lazy to spend the time learning how to best use it. That's why I jumped at the chance to reviewthe Revlon Expression Experiment!
The Revlon Expression Experiment dares to step out of our comfort zone and the same hum drum make up routine and take a chance, be bold, and wow ourselves. Maybe try out a bright lipstick, some daring eye shadow, or some nail polish!
In one million and 2 years, I would NEVER have thought this eye shadow would belong on my face. So for kicks, I gave it a try, put it on with a light hand, and (gasp) LOVED it!
I was off for a girl's night and decided to really jump off the deep end and give some bold blue nail polish a shot. Hee Hee, it matched my painting at Canvas & Corkscrews!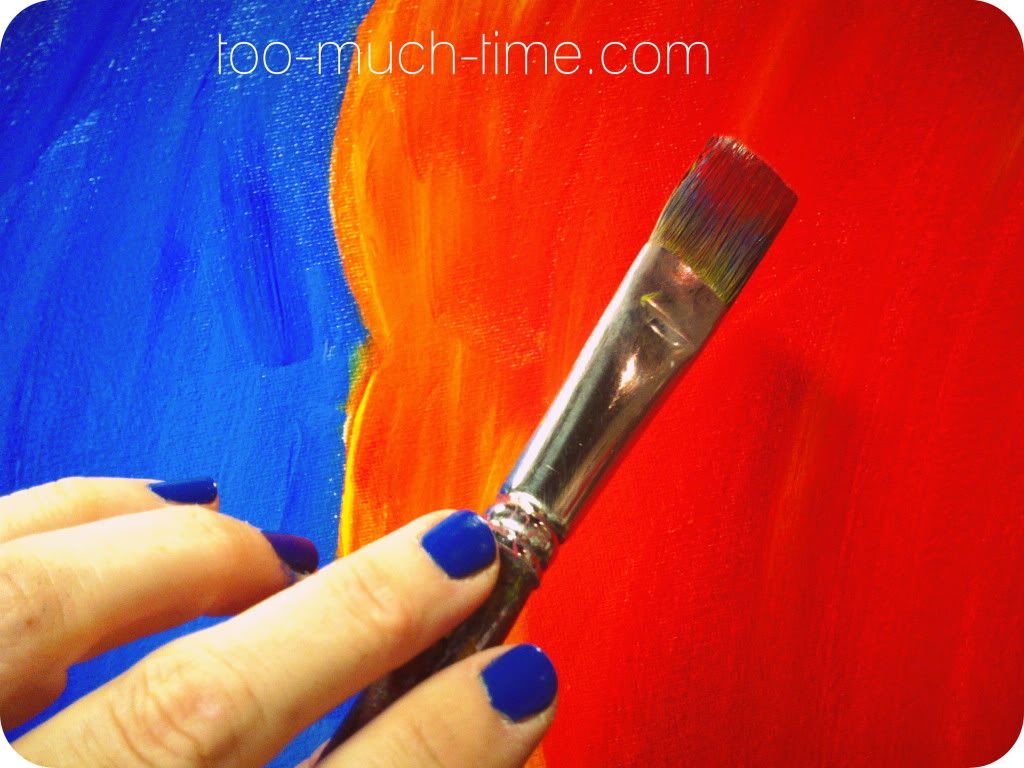 The Revlon Colorstay Longware Nail Enamel is awesome!
There is a base and top coat as well as a huge color pallette and when you use the entire system, your maincure can last for 10 days! 10 days? " Yeah right," I said. Nail polish on my fingers usually loooks nice for about 2 days...maybe 3 if I am being super careful. I don't know if it's my nails or my technique, but I don't have great luck. Well, I must say the Revlon system stayed put on my nails longer than any nail color system I have ever used!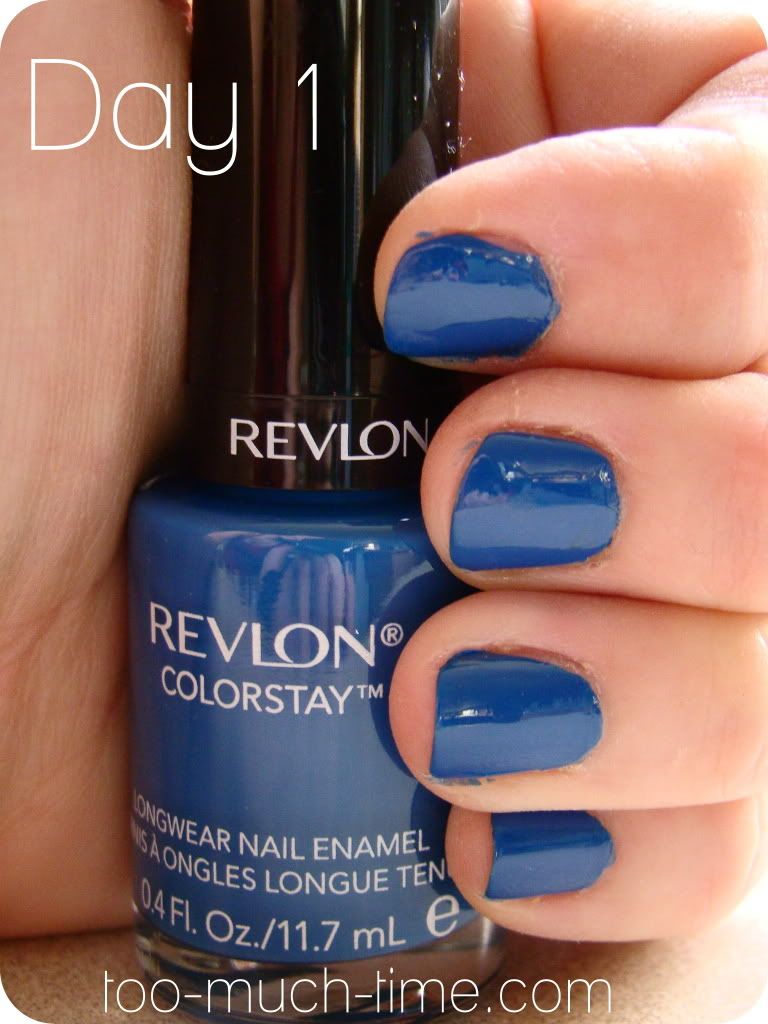 Went on nice and smooth, dried quickly, and was super glossy!
Then I got to work because Better Homes and Gardens was ont heir way to my house. I was tough on my hands.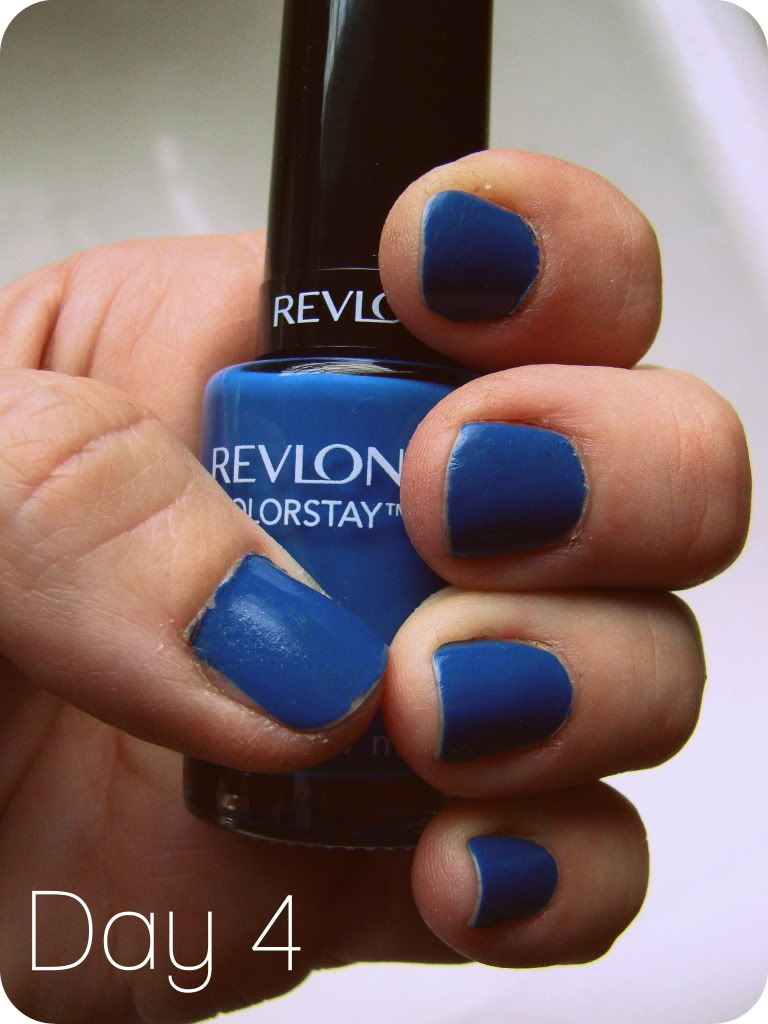 Like super tough! Pinting, scrubbing, cutting, cleaning, stripping furniture, hot glueing. This is what my poor hands looked like by day 8.
Not a pretty picture! Honestly, I can't believe the Revlon polish stayed on as well as it did! My usual polish would have been long gone by day 3.
The polish on my toes was rock solid and still shiny at day 10! Seriously wonderful. I will also be using the Revlon Photo Ready Eye Brightener and Color Correcting makeup primer for my photo shoot with BH&G. They both go on and feel light and airy while giving me just a little oomph!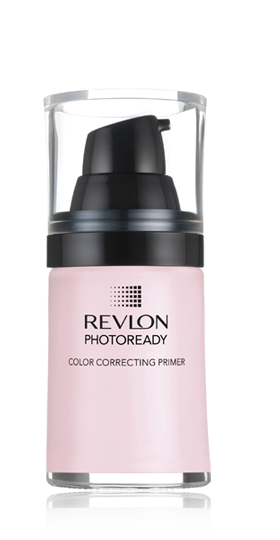 I truly enjoyed being challenged and had fun coming out of my shell a little bit I even found a new eye shadow I have been wearing every single day since I tried it! I wholeheartedly dare you to join the
have some fun and wow yourself!