Well, I am B-E-A-T
Better Homes and Gardens has been here for the past 2 days and has pretty much been the most exciting thing that has ever happened to me. It has been operation spruce up my house, even though they were not here for my whole house and in fact pretty much none of my actual house will show up in the magazine-nuts, I know. Want a lil list of what's been going on around here for the past 2 weeks?
redecorated my powder room (including a new step stool and DIY wall art)
redid 4 chairs for my dining room
staged an alley way find from sis-in-law in my dining room
lined my clear kitchen cabinets with fabric
redesigned my focal wall in my living room
created a gallery wall on my staircase
covered the windows next to my front door with frosted vinyl
reorganized my (very messy) craft room
and cleaned out under my kitchen sink.
freshened up my kids bathroom with some Dollar Store and free finds.
I will write a nice long post about BH&G and share some of those projects with you starting next week, I am ready to just relax and see what everyone else has been doing while I have been in my BH&G cloud! Today was so great I kinda feel like...
Meet my new besties Edmund and Stacey-love 'em
But, You'll hear more about them next week, for now, on to the show!
If you were featured, grab a button!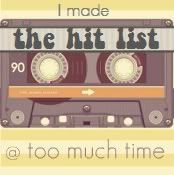 Reposhture turned an old buffet into a gorgeous buffet!
I love this old ski stencil project from Red Head Can Decorate. I need to get my hands on some oldies!
I love pallets...pallets are the best...I love pallets...Live Laugh Rowe made a super cute lil serving tray out of her pallets!
What to do when you suddenly realize your dress is a teensy too short? Head to the fabric scrap pile like Creative Chaos!
Love this one from The Concrete Cottage! This lamp was plastic and lime green when she started...
This painted drop cloth subway art from Frou Frou Gal is something I totally want to copy!
Now, it's your turn to share and let it all hang out. No rules round here so let us have it! Here is a button if you want to share.