What up, crafty folks?
Not only is it party night BUT I have a FABULOUS giveaway too!
These are the amazingly helpful people I have been getting coffee sacks, jute webbing, and burlap rolls from. they ship quickly, have awesome prices, and everything you need for any burlap crafting you may want to tackle!
I made this planter with a burlap coffee sack from Burlap Fabric.com.
And I was so burlap crazy that I put together a collection of 74 burlap project ideas!
I also have a whole shiny brand new page devoted to burlap...I told you this was becoming a problem...
So raise your hand if you would like to win a $20 gift card from Burlap Fabric.com?
The coffee sacks are only $1.49 a piece, so you could really make out on this deal!
Leave a separate comment for each entry:
1. Visit Burlap Fabric.com and tell me what you will buy with your gift card.
2. "Like" Burlap fabric.com on Facebook and leave them a comment telling them I sent you over.
3. Follow me by Linky Followers, RSS, or e-mail subscription and let me know that you already do or just signed up.
The contest is open until Thursday, May 17, 2012 and I will announce the winner at next weekend's party!
Now, on to my faves from last week.
If you were featured, please grab a button!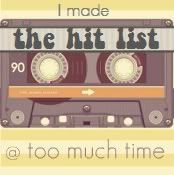 Claire from A Little Something in the Meantime created a fun and super cute front porch. I am working on mine right now and I may need to incorporate a pair of galoshes because they are SOOOOO fun!
I have a serious blog crush on Angela from Knick of Time. This shelf is just freaking awesome and I want one next to the desk in my bedroom!
This sewing table reno from the super talented Good Time Charlie, over at Redoux made me stop in my tracks. She rebuilt the top and I am in love...but I pretty much love every single thing she does, so it's no big surprise.
Meeha Meeha took a small balcony space and created a bright and relaxing zen garden. I love the flooring she created out of wood planks and stones.
Now, onto this week's extravaganza of creativity, fun, and mishaps. PLEASE share your mishaps...we can all learn from mistakes...I am going to be sharing one of mine on Sunday...my new wreath
got into a throwdown with the sun and it sure doesn't look like that anymore...neither does my door for that matter....or the floor under my door...anyway, more on that later.
For now link it up baby! No rules, share a button if you like and follow me if you feel it, but it is up to you:)