HEY, NOW!
I am feeling better and I am ready for the weekend. I am ready to work in  my garage, create some fun stuff for my new front porch design, and plant some more veggies in my garden. It is 87, sunny, and I am feelin it:)
I am so glad you are here to share your creations, stories, recipes, and ideas with us. Last week's party really did cheer me up and bring me out of my sick funk. Here are the projects that really caught my eye. If I featured you please grab a button!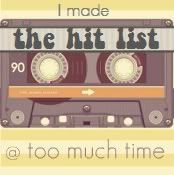 First up was the last entry in the party last week. These luggage tags from My Sister's Suitcase are so terribly adorable. I SO want to make some to add to my Christmas gift wrapping this year. Couldn't we all use an extra luggage tag...especially ones as cute as these?!
Living in Denver, the mountains, skiing, and snowboarding are a big part of our lives. The freakin amazing ski pole standing lamp from Reposhture floored me and a knock off will find its way into our home before next winter! The lamp is so pretty but isn't this picture of the ski poles "before" so much more fun!
I am a big road tripper and have driven all over back and forth across this country quite a few times. This canvas is so fun and  Lake Girl Paints did a ridiculous job finishing it off to look just like a weathered sign.
Here is a super cute scrap skirt tutorial from Twin Dragonfly Designs. Have I mentioned I need to learn how to sew.
Okay, my sunshines!
Link up all your goodness and if you want to share my button, that's cool, if not, that's ok too...no rules round here! The party is open until Monday evening!