I am SOOOO glad the weekend is here!
I have a ton of projects to work on....I happened upon a Goodwill last week with 50% off the entire store and went a bit KOO-KOO buying everything I could grab. Some nice sunny weather and a freshly organized garage are waiting for me and I am going to be working hard!
On Sunday, which is Earth Day if you are living on Mars and didn't know, we will be getting out to hike, check out Dinosaur Ridge with the kids (a place with super cool dinosaur footprints in the side of the mountain just off I-70 in Denver), have a picnic, and hit up some of these places for
free stuff!
But before we start with this week's party, let's check out my faves from last week.
No really, I have good taste and pick cool stuff....stick around....
If you were featured, grab a button!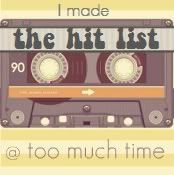 'A Casarella created some super cute laundry room art! Check out this whole post-she has some A-Dorable jars she revamped too! I just bought a bunch of these hangers recently and I am feeling inspired....
I am MAKING THIS! Remade Simple created a sweet, natural, and welcoming sign for her entry. Now I know what to have the kids collect while we hike on Sunday:)
I want to dig into this amazing cake from Little Inspiration!
Home Happy Home created a cute little burlap accent piece. This is easy, fun, and would spruce up any place that needs a little smile!
I could use some fresh and exciting inspiration for all the goods sitting in my garage so I am totally ready for this link party! If you want to share a button grab one over here. I have a bunch...one for every mood!
Now, Let's see what you got!