"Baby, it's a party, party, party....If you got something for me, I got something for you."
Isn't Boston just great?
I am kind of a classic rock girl, well along with bluegrass, killer 80's, and Barry Manilow, but don't fret we will get there eventually.
Sorry if I got ya excited, I don't really have something for you, but I sure hope you all have something for me...to share...at the party.
Here are my favorites from last week!
If you were featured grab a button!
These little accent pillows from Ugly Duckling Transformationsare just gorg!
These hats from I Gotta Create are made using recycled items-plastic grocery bags for the tassels! If you saw my post this morning, you know I am in the market for party supplies!
Speaking of my post from this morning....this A-DORABLE ruffled tote tute from Scattered Thoughts of a Crafty Mom, totally fits my theme!
These fabric lined drawers from Cherished Bliss are so happy and cheerful. I wouldn't even want to fill them and cover the fun:)
Homey Home Designs created a great shelf display and shares some helpful styling tips.
You know that the beauty of this party is NO RULES!
Link whatever you want, just be G-Rated please. If you want to follow and show off a button that's cool too!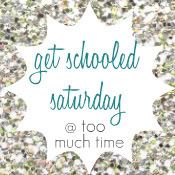 <a href="http://too-much-time.com/?s=get+schooled+saturday" target="_blank"><img src="http://i1132.photobucket.com/albums/m566/kimtoomuchtime/gss-8.jpg" alt="toomuchtime" width="150" height="150" /></a>