I am within of inches of just switching back to Blogger.
I just spent 1.5 hours writing this post and getting it perfect, when my computer mysteriously shut down with no warning and guess what?
My post disappeared. Apparently, WordPress does not auto save as you are writing a post like blogger does.
Let's get a few things straight
1. I somehow lost all of my sidebar titles and can't figure out how to get them back.
2. It took me 2 hours to uncover the mystery of changing my sidebar background color-and I spent another 6 just searching for and researching tutorials and have gotten next to nowhere with this hot mess
3.I do not have another 75 hours to spend on this and it is making me crazy to have my blog looking nothing like what I want it to look like
1 + 2 + 3 = 4 goodness sake! I NEED A WP BLOG DESIGNER
I am offering up a lovely little Bvlgari bath time set of goodies (similar to this one) to the person who steers me in the right direction.
It includes: shampoo, shower gel, body lotion, and hand soap all in the eau de blanc sent-and it is heavenly!
Leave a comment with your blog designer suggestion and when I make my decision and choose one I will let you all know and pop this goodie bag in the mail to the blessed soul who has helped me.
Enough of my ranting, on to the party! Sorry no highlights this week, after losing them all once, I just don't have time to load 'em all up again! I promise I will be better and more able to work this WP puzzle out by next week!
No rules round here folks! Link whatever you like-just remember we are a g-rated show so play nice:) Here is a button if you would like to display one somewhere on your blog-but you don't have to!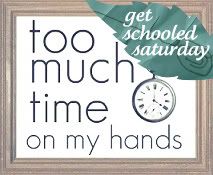 <a href="http://too-much-time.com/?s=get+schooled+saturday" target="_blank"><img src="http://i1132.photobucket.com/albums/m566/kimtoomuchtime/bluechevronbanner-13.jpg" alt="toomuchtime" width="125" height="125" /></a>