Hello, hello
How is everyone doing this evening?
All well, I hope.
It is the weekend and I am so glad you stopped by for
I have had a stressful week and I haven't even been doing anything!
Blogelina is trying to get me all set up over at WordPress with my own domain and everything (how grown up and official?)
My new address will be
I am so worried about losing all the wonderful and supportive people who have been following me! I try to do most of this bloggy design and even html stuff myself, but this was too big and too scary for me to undertake. I would have like lost every post I ever wrote and made blogger explode or something, so I figured this is a job best kept to the professionals.
So, if I somehow disappear into cyberspace-come looking for me...kay?
Onto the most viewed links from last week's party! If I featured you do please
grab a fun little button🙂
I have 36 or something like that for you to choose from.
I have to admit, this was one of my faves of every link party I visitied!
used pallets to create a fun photo display
A Crate & Barrel knockoff from
Loving that mercury glass on a lamp!
These free terrariums from
have me dreaming of spring and bringing more green into the house.
Boy, I love me some junk!
used "junk" to create amazing wall decor!
I can't wait to try this!
has the best static reducer trick...EVER!
AND, the most viewed link last week was this amazing room reveal from(again!)
Creatively Living
This is awesome and it was even on a strict budget!
Alright all you hooligans, link it up baby!
Anything you feel like sharing is fair game.
A recipe, a mishap, a photo, a project or craft, an important piece of advice that I should know about about switching to WordPress...oh wait you can just e-mail me that last one-heehee
You don't even have to follow me, or display my button, or even like me for that matter. But if you do (like me), you can follow if you're feelin it, and if you still do (like me) you could spread the love and plop this little button on your blog somewhere:)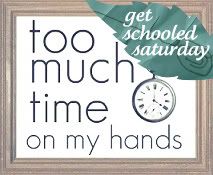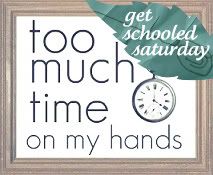 Hope you all have a nice weekend! I am off to stay at The Ritz Carlton in Vail for the weekend (don't be jealous:) We are more the Motel 6 type, but we have some visitors in town and will be throwin down like high rollers for once.
So check ya Monday!